Today, we celebrate the 7th birthday of our favorite game! Wizard101 is doing a lot this year! Check it out!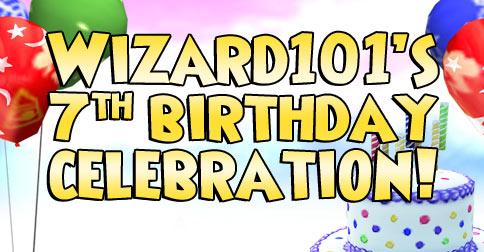 New Birthday Crowns Shop Items
Party Corgi Pet
Regular Keeper Party Multi-tank Aquarium
Birthday Party Cake Housing Item
Party Chair Housing Item
Party Buffet Housing Item
Special Events
The 5 B.O.X.E.S Event
The Lost Pages Event
Member Benefits
From now until September 8th, if you have a membership you get:
Double Pet XP
Double Gardening Rewards
Free Training Point Buy-Back
Free Tournaments
Birthday Giveaway
From now until September 30th, redeem the code "happy7thbday" to receive:
Origami Party Crane
Birthday Hat
Confetti Cannon
Major Fishing Luck Elixir
Ultra Dandelion Seed
Birthday Cake Snack
Huge Ice Cream
Birthday KI Live
On Thursday, September 3rd at 4;00 CDT, watch KI Live for a whole bunch of cool stuff and giveaways!
Gobbler Fish is back!
This is the birthday fish! Hurry, catch this balance fish before it's gone!
Happy 7th Birthday, Wizard101!